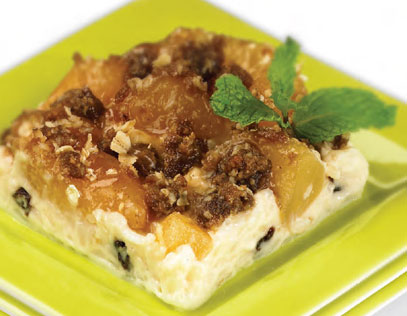 Nutrition
Per serving
390 calories
4 g protein
74 g carbohydrate
2 g fiber
10 g fat
4 g saturated fat
10 mg cholesterol
240 mg sodium
Ingredients
| | |
| --- | --- |
| 1 cup | Light brown sugar, packed |
| 3/4 cup | Flour |
| 1/4 cup | Quick cooking (1 minute) rolled oats |
| 1/2 tsp | Ground cinnamon |
| 4 tbsp | Butter or margarine, cut into pieces |
| 1-1/2 qt | Thank You® Brand Rice Pudding |
| 1-1/2 cups | Raisins |
| 1x 20 oz can | Sliced apples, drained |
Procedure
Combine sugar, flour, oats, and cinnamon in bowl.
Cut in butter until mixture resembles coarse crumbs.
Mix pudding and raisins in 2″ deep steamtable half pan or 14″ x 10″ x 2″ baking pan.
Arrange apple slices on top of pudding; sprinkle with sugar mixture.
Bake at 350°F until pudding is hot and topping is browned, 30 to 40 minutes. Serve warm.
Yield: 12 servings
Chef's Tip:
Tapioca pudding may be substituted for rice pudding. Drained, sliced peaches may be substituted for sliced apples. Pudding also may be served chilled. Spoon into small dishes and garnish with whipped topping or whipped cream. Optional Procedure: Combine pudding and raisins. Portion into 16 soup cups or custard cups. Top each pudding cup with 1 oz apple slices and 1 oz crumb topping. Bake at 350°F for 25 minutes.
Nutrition
Per serving
390 calories
4 g protein
74 g carbohydrate
2 g fiber
10 g fat
4 g saturated fat
10 mg cholesterol
240 mg sodium
For questions or to place an order, click here to contact your Bay Valley Foods representative.