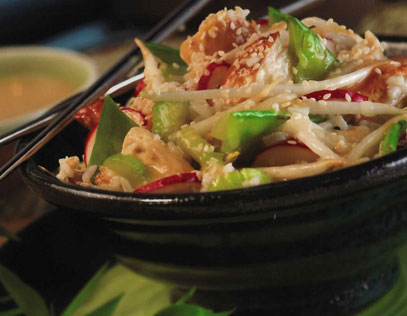 Nutrition
Per serving*
370 calories
27 g protein
36 g carbohydrate
3 g fiber
12 g fat
2 g saturated fat
60 mg cholesterol
300 mg sodium
*without garnishes
Ingredients
| | |
| --- | --- |
| 3 oz | Rod's® Oriental Honey Sesame Dressing |
| 2 cups | Chicken breast, cooked, chopped |
| 3 cups | Rice, cooked, chilled |
| 1 cup | Celery, sliced |
| 1 cup | Bean sprouts, fresh |
| 1/2 cup | Green onions, sliced |
| 5 large | Radishes, sliced |
| 4 oz | Snow peas, blanched |
| 2 tbsp | Sesame seeds, toasted |
| To garnish | Boy choy, shredded |
| To garnish | Red seedless grapes |
Procedure
Combine dressing and chicken in large bowl; mix well. Cover and refrigerate several hours or overnight.
Add rice, celery, bean sprouts, green onions, radishes, snow peas and sesame seeds to chicken; mix well.
To serve, garnish with shredded bok choy and small bunches of red grapes.
Yield: 4 Servings
Chef's Tip:
Canned (drained and rinsed) bean sprouts may be substituted for fresh. Additional dressing maybe be added with rice and vegetables if salad looks dry. Shredded romaine lettuce may be substituted for bok choy.
Nutrition
Per serving*
370 calories
27 g protein
36 g carbohydrate
3 g fiber
12 g fat
2 g saturated fat
60 mg cholesterol
300 mg sodium
*without garnishes
For questions or to place an order, click here to contact your Bay Valley Foods representative.