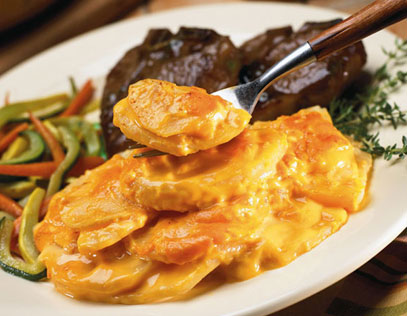 Nutrition
Per serving
206 calories
4.5 g protein
25 g carbohydrate
2 g fiber
10 g fat
5 g saturated fat
24 mg cholesterol
439 mg sodium
Ingredients
| | |
| --- | --- |
| 4 lbs | Raw celeriac (celery root), peeled and sliced 1/8" thick |
| 4 lbs | Raw potatoes, peeled and sliced 1/8" thick |
| 6 cups | Half and half |
| 1/2 tsp | White pepper |
| 1/4 tsp | Nutmeg |
| 4 cups | Thank You® Brand Mild Cheddar Cheese Sauce |
Procedure
Cover the bottom of a 2″ hotel pan with rows of overlapping sliced celery root. Cover with half the cheese sauce.
Cover the cheese layer with rows of overlapping sliced potatoes. Cover the potatoes with the remaining cheese sauce.
Mix half and half, white pepper, and nutmeg together. Pour over the top of the potatoes and cheese sauce.
Bake covered, for 30 minutes at 400° (350° convection). Uncover and bake 30 minutes longer, or until tops are lightly browned and cheese is bubbling nicely.
Yield: 24 1-Cup servings
Chef's Tip:
This dish can tend to spatter—put a sheet pan in the oven below the hotel pan.
Nutrition
Per serving
206 calories
4.5 g protein
25 g carbohydrate
2 g fiber
10 g fat
5 g saturated fat
24 mg cholesterol
439 mg sodium
For questions or to place an order, click here to contact your Bay Valley Foods representative.