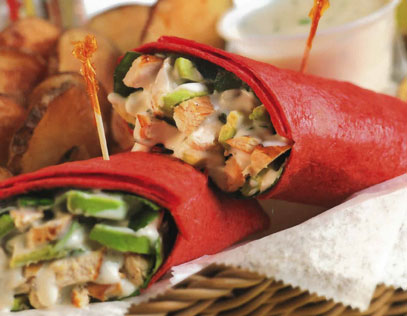 Nutrition
Per serving*
710 calories
35 g protein
48 g carbohydrate
7 g fiber
43 g fat
10 g saturated fat
90 mg cholesterol
930 mg sodium
*made with 4 oz chicken breast
Ingredients
| | |
| --- | --- |
| 2-1/2 oz | Rod's® Ranch Dressing, divided |
| 1 tbsp | Cilantro, chopped |
| 4 to 6 oz | Chicken breast fillet, skinless, boneless |
| 4 to 5 | Spinach leaves, washed, dried |
| 1 (burrito-size) | Flour tortilla, warmed |
| 2 oz | Avocado, sliced |
Procedure
Combine dressing and cilantro. Reserve 1/2 oz; cover and refrigerate.
Marinate chicken in remaining dressing mixture covered, 1 hour or longer, in refrigerator.
Just before serving, drain chicken. Grill 4 to 5 minutes on each side, or until no longer pink. Cool slightly; slice thinly.
Layer spinach, chicken, and avocado on warm tortilla. Drizzle with reserved dressing mixture; roll up.
Cut wrap diagonally in half to serve.
Yield: 1 Serving
Chef's Tip:
Serve additional dressing on the side.
Nutrition
Per serving*
710 calories
35 g protein
48 g carbohydrate
7 g fiber
43 g fat
10 g saturated fat
90 mg cholesterol
930 mg sodium
*made with 4 oz chicken breast
For questions or to place an order, click here to contact your Bay Valley Foods representative.