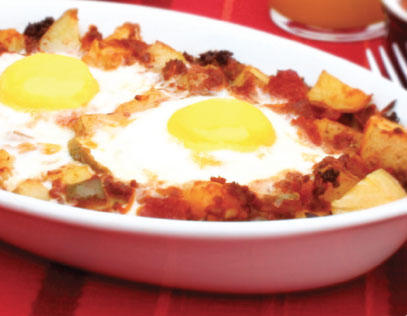 Nutrition
No nutrition information available.
Ingredients
| | |
| --- | --- |
| 12 cups | Yukon Gold potatoes (cut into 1/2 inch pieces) |
| 2 lbs | Chorizo sausage (casing removed) |
| 1 qt | San Antonio Farms® Roasted Chipotle Salsa |
| To taste | Salt & pepper |
| 18 each | Eggs |
| To taste (optional garnish) | Salsa |
Procedure
Preheat oven to 375ºF.
Place potatoes in a stockpot of boiling water.
Cook for 10 minutes or until tender; drain.
Cook the chorizo sausage in a sauté pan over medium/high heat for 10 minutes or until temperature reaches 165ºF.
Combine the chorizo, potatoes and salsa; season with salt and pepper.
Place mixture in a hotel pan coated with cooking spray.
With a ladle, make 18 indentations in potato mixture about 1 inch apart; place a cracked egg into each one.
Bake for 15-18 minutes or until the egg whites are set; top each serving with additional salsa.
Yield: 18 Servings
Chef's Tip:
Can also be baked and served in individual skillets. Substitute with our Thick & Chunky or Chunky Salsas.
Nutrition
No nutrition information available. For questions or to place an order, click here to contact your Bay Valley Foods representative.