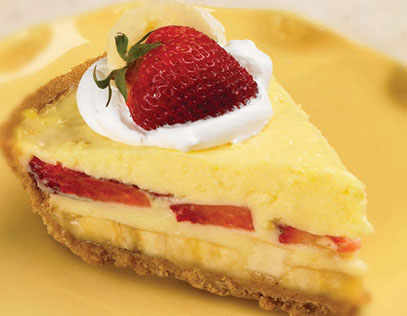 Nutrition
Per serving
200 calories
2 g protein
31 g carbohydrate
< 1 g fiber
8 g fat
2 g saturated fat
0 mg cholesterol180 mg sodium
Ingredients
| | |
| --- | --- |
| 1 packet (1/4 oz) | Unflavored gelatin |
| 1/4 cup | Cold water |
| 1 qt | Thank You® Brand Banana Pudding |
| 2 cups | Bananas, peeled, sliced |
| 2 (9-inch) | Graham cracker pie crusts |
| 2 cups | Strawberries, sliced |
| To garnish | Banana slices |
| To garnish | Strawberry slices |
| To garnish | Mint sprigs |
Procedure
Sprinkle gelatin over cold water in small saucepan; let stand 3 to 4 minutes. Heat over low heat, stirring constantly, until gelatin is dissolved, 2 to 3 minutes.
Stir gelatin mixture into pudding; mix well.
Arrange 1 cup banana slices on bottom of one crust; top with 1 cup pudding, spreading evenly. Top with 1 cup strawberries, then 1 cup pudding, spreading evenly. Repeat with second crust, remaining pudding and fruit.
Cover and refrigerate pies until set and well chilled, 4 to 6 hours.
To serve, cut each pie into 8 wedges. Garnish with bananas, strawberries and mint.
Yield: 16 Servings (2 pies)
Chef's Tip:
Vanilla, chocolate or chocolate fudge pudding may be substituted for banana pudding. Additionally garnish with whipped cream or whipped topping.
Nutrition
Per serving
200 calories
2 g protein
31 g carbohydrate
< 1 g fiber
8 g fat
2 g saturated fat
0 mg cholesterol180 mg sodium
For questions or to place an order, click here to contact your Bay Valley Foods representative.