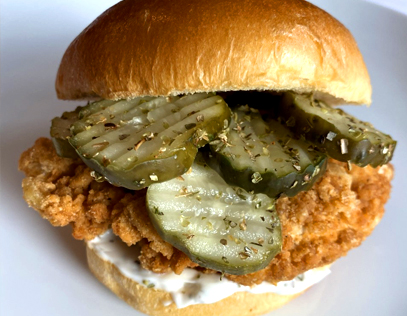 Nutrition
No nutrition information available.
Ingredients
| | |
| --- | --- |
| 4 | boneless skinless chicken breasts, cut into ½-inch cutlets |
| 3 cups | ranch pickle brine |
| 3 cups | all purpose flour |
| 2 tablespoons | salt |
| 3 tablespoons | onion powder |
| 1 tablespoon | garlic powder |
| 1 tablespoon | black pepper |
| 2 cups | buttermilk |
Procedure
1. In a large lidded container, combine chicken breasts and pickle brine. Marinate, refrigerated, for at least eight hours or up to 24 hours.
2. In a large bowl, place flour, salt, onion powder, garlic powder and black pepper. Stir to combine.
3. In another medium bowl, place buttermilk.
4. Drain chicken pieces and place into the large bowl with flour mixture. Toss to coat. Shake off excess mix from the chicken and place into the bowl with buttermilk. Toss to moisten chicken.
5. Strain chicken from buttermilk and return to the large bowl with breading mixture.
6.Repeat steps 4 and 5 once more.
7. Shake off all excess breading mixture and discard unused mixture. Let chicken rest at least 15 minutes, up to one hour refrigerated.
8. Fry the coated chicken at 350 degrees for 10 minutes, or until golden brown and an instant read thermometer registers 165 degrees. Drain on a wire rack, and rest for two minutes before using.
Ranch Pickle Chicken
Yield: 1 serving
Ingredients
2 tablespoons unsalted butter
1 brioche hamburger bun
1 breaded chicken breast
5 Bay Valley Ranch Pickle Chips
2 tablespoons herbed mayo
Directions
1. In a medium sized buttered sauté pan or on a griddle, lightly toast the insides of brioche bun over medium heat, until just slightly browned.
2. On a clean surface, place the bottom of the brioche bun.
3. Place cooked chicken breast on top of the bottom bun.
4. Place ranch pickle chips on top of chicken.
5. Brush top portion of the bun with herbed mayo.
6. Place bun top on top of pickles.
Buffalo Honey Hot Sauce
Yield: 28 servings
Ingredients
1 cup hot sauce
5 tablespoons honey
½ cup unsalted butter, melted, warm
Directions
1. Combine all ingredients in a medium sized bowl and whisk until well combined.
2. Pour into a lidded storage container and refrigerate until ready to use.
Chef's Tip:
Juicy pickle brined chicken breast, hand-breaded and fried until golden. Topped with crunchy ranch flavored pickles, herbed mayo, and melty white cheddar cheese all served on a soft buttered brioche bun.
Nutrition
No nutrition information available. For questions or to place an order, click here to contact your Bay Valley Foods representative.