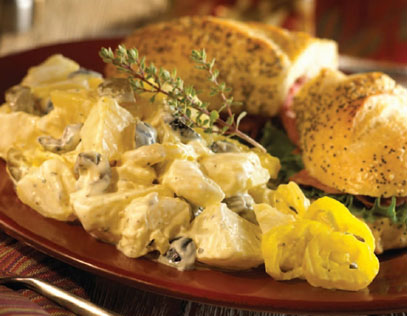 Nutrition
Per serving (1/2 cup)
205 calories
1.5 g protein
19 g carbohydrate
1.5 g fiber
14 g fat
2 g saturated fat
0 g trans fat
6 mg cholesterol
419 mg sodium
Ingredients
| | |
| --- | --- |
| 2-1/2 lbs | Red potatoes, cooked, peeled (if desired), and cut into chunks |
| 1/2 cup (3 oz) | Bay Valley® Brand Hot Banana Pepper Rings |
| 3 tbsp (1.5 oz) | Bay Valley® Brand Sweet Pickle Relish |
| 1/4 cup (1 oz) | Green onions, sliced |
| 1 cup | Mayonnaise |
| 1 tbsp | Mustard |
| 1 tsp | Salt |
| 1/4 tsp | Thyme, dried |
| 1/4 tsp | Basil, dried |
| 1/4 tsp | Anise seeds, dried |
| 1/4 tsp | Cayenne pepper, dried, ground |
| 1/4 tsp | Fresh ground pepper |
Procedure
In a large bowl, place potatoes, pepper rings, relish, and onions.
In a small bowl, stir together mayonnaise, mustard, salt, and remaining spices.
Toss dressing with potato mixture.
Chill and garnish with additional banana pepper rings.
Yield: 13 Servings (1/2 cup)
Nutrition
Per serving (1/2 cup)
205 calories
1.5 g protein
19 g carbohydrate
1.5 g fiber
14 g fat
2 g saturated fat
0 g trans fat
6 mg cholesterol
419 mg sodium
For questions or to place an order, click here to contact your Bay Valley Foods representative.