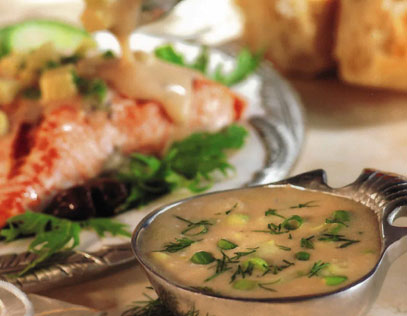 Nutrition
Per serving (2 tbsp)
110 calories
1 g protein
1 g carbohydrate
0 g fiber
11 g fat
2 g saturated fat
0 mg cholesterol
250 mg sodium
Ingredients
| | |
| --- | --- |
| 1 qt (32 oz) | Rod's® Caesar Dressing |
| 1-1/3 cups | Cucumber, peeled, seeded, finely chopped |
| 2/3 cup | Green onions, thinly sliced |
| 2-1/2 tbsp | Dill weed, fresh, chopped |
Procedure
Combine dressing, cucumber, onions and dill weed; mix well.
Cover and refrigerate several hours to blend flavors.
Yield: About 1-1/2 quarts
Chef's Tip:
For a main dish salad, place grilled salmon fillet on bed of mixed salad greens. Drizzle with dressing. Garnish with tomato wedges and pitted kalamata olives.
Nutrition
Per serving (2 tbsp)
110 calories
1 g protein
1 g carbohydrate
0 g fiber
11 g fat
2 g saturated fat
0 mg cholesterol
250 mg sodium
For questions or to place an order, click here to contact your Bay Valley Foods representative.