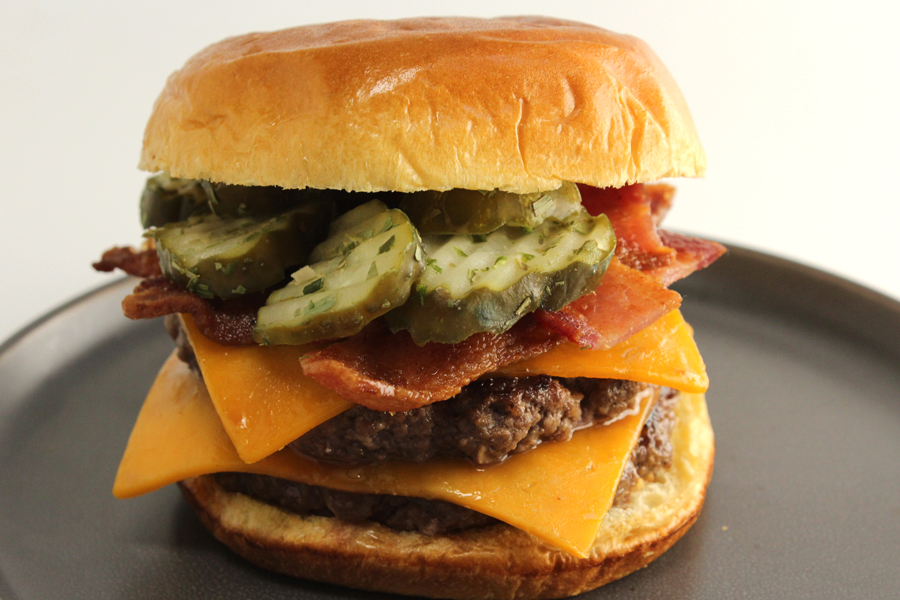 Nutrition
No nutrition information available.
Ingredients
| | |
| --- | --- |
| 1 | Brioche Hamburger Bun |
| 2 | 1/4 lb. All Beef Hamburger Patty |
| 2 | Cheddar Cheese Slices - Mild |
| 2 slices | Bacon, Thick Cut - Baked, Crisped, Halved |
| 5 | Bay Valley Ranch Pickle Chips |
Procedure
1. Heat a griddle to medium-high heat.
2. Toast the inside of the brioche bun on the griddle until there is a light golden brown. Remove.
3. Cook the burger patties for 3 minutes on each side, until a brown crust has developed on each side and the internal temperature has reached 145 degrees. Remove and place on a clean plate. Top each patty with a piece of the cheddar cheese and let rest 2 minutes.
4. On a serving plate, place the bottom of the bun.
5. Atop the bun, place hamburger and cheese stack. On top of that, place the other patty with cheese.
6. Place the bacon across the top of the stacked burger.
7. Top with ranch pickle chips and bun top.
8. Serve.
Chef's Tip:
Two 100% all-beef burger patties, griddled and topped with crunchy ranch flavored pickles, crispy thick-cut bacon and melted cheddar cheese on a buttery grilled brioche bun.
Nutrition
No nutrition information available. For questions or to place an order, click here to contact your Bay Valley Foods representative.