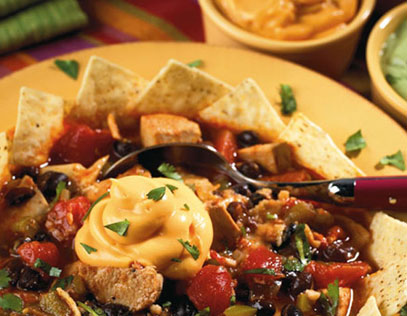 Nutrition
Per serving
600 calories
39 g protein
71 g carbohydrate
16 g fiber
21 g fat
5 g saturated fat
68 mg cholesterol
949 mg sodium
Ingredients
| | |
| --- | --- |
| 1/4 cup | Olive oil |
| 2 cups | Onions, diced |
| 1 tbsp | Garlic, fresh, minced |
| 2-1/2 lbs (about 2 qts) | Chicken breast meat, cooked and diced |
| 1 qt | Bell pepper, diced |
| 1 qt | Tomato (canned; do not drain), diced |
| 1 qt | Chicken stock |
| 1-1/2 qts (6 cups) | Black beans, cooked, or canned (rinsed and drained) |
| 2 cups | Red chile sauce |
| To taste | Salt and black pepper |
| 2 lb | Tortilla chips |
| 20 oz (2-1/4 cups) | Thank You® Brand Jalapeño Cheddar Cheese Sauce |
| 1-1/2 cups (loosely packed) | Cilantro leaves, fresh |
Procedure
Heat oil in double-handled braising pan over moderate flame. Add onions, and when they are almost cooked, add garlic.
Add precooked chicken breast meat, diced peppers, and tomatoes, and stir briefly.
Add stock and bring to a boil. Add beans and red chile sauce and return to a boil. Reduce heat to a simmer for 15 minutes.
Season before serving.
Per Portioned Serving:
Put 1-1/2 cups of chips in large soup bowl, and ladle 1-1/2 cups of chilaquiles over them.
Top with 2 tbsp. (1 oz) of the cheese sauce, and garnish with cilantro leaves.
Yield: 20 Servings
Chef's Tip:
Chilaquiles recipes were traditionally a way of using up leftover tortillas. The method can be used with chicken, pork, or even firm-fleshed fish. Heat can be adjusted by the selection of the chile sauce and by varying the peppers.
Nutrition
Per serving
600 calories
39 g protein
71 g carbohydrate
16 g fiber
21 g fat
5 g saturated fat
68 mg cholesterol
949 mg sodium
For questions or to place an order, click here to contact your Bay Valley Foods representative.