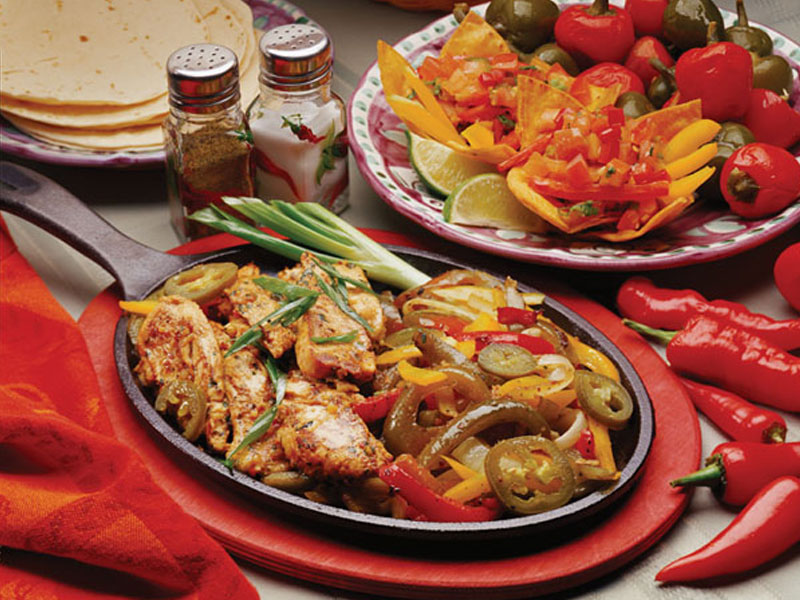 Nutrition
Per serving (2 fajitas)
400 calories
29 g protein
40 g carbohydrate
3 g fiber
13 g fat
2.5 g saturated fat
0 g trans fat
63 mg cholesterol
963 mg sodium
Ingredients
| | |
| --- | --- |
| 1/8 tsp | Garlic, granulated |
| 1/4 tsp | Cumin, ground |
| 1/8 tsp | Coriander, ground |
| 1/8 tsp | Cayenne pepper, ground |
| 1/8 tsp | Black pepper, ground |
| 1/8 tsp | Salt |
| 1 lb | Skinless, boneless chicken breast, cut into 1/2" strips |
| 1-1/2 tbsp | Olive oil, divided |
| 1 tsp | Lime juice |
| 2 tbsp (about 1/2 oz) | Scallions (green onions), finely chopped |
| 1 tbsp | Fresh cilantro, finely chopped |
| 8 oz | Yellow onion, sliced |
| 1/2 cup (3.5 oz) | Bay Valley® Brand Jalapeños, stemmed and sliced |
| 8 each (6-inch size) | Flour tortillas |
| To taste | Salsa |
Procedure
Combine garlic, cumin, coriander, cayenne, pepper, and salt; rub into chicken and refrigerate for one hour.
Remove chicken from refrigerator. In large skillet, heat 1 Tbsp. olive oil and brown chicken until cooked through. Remove chicken from skillet and toss with lime juice, scallion, and cilantro.
Add remaining oil to skillet and cook onion until lightly browned.
Add peppers; heat through.
Remove and toss with chicken.
Heat tortillas until softened, and serve tortillas and salsa on side.
Yield: 4 Servings (2 fajitas)
Nutrition
Per serving (2 fajitas)
400 calories
29 g protein
40 g carbohydrate
3 g fiber
13 g fat
2.5 g saturated fat
0 g trans fat
63 mg cholesterol
963 mg sodium
For questions or to place an order, click here to contact your Bay Valley Foods representative.