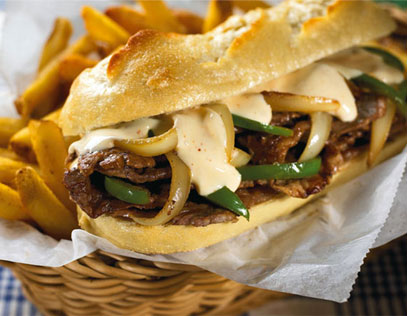 Nutrition
Per serving
716 calories
27 g protein
103 g carbohydrates
7 g fiber
23 g fat
9 g saturated fat
42 mg cholesterol
1676 mg sodium
Ingredients
| | |
| --- | --- |
| 4 oz | Philly steak beef |
| 1 oz (about 1/4 cup) | Yellow onion, sliced |
| 1-1/2 oz (about 1/3 cup) | Green bell peppers, julienned |
| 1/2 tbsp | Butter |
| 1 roll (6-inch) | French roll |
| 2 oz (1/4 cup) | Bay Valley® Brand Monterey Jack Cheese Sauce |
| 1/2 tsp | Chili Powder |
| Pinch | Cayenne pepper, ground |
Procedure
Fry the beef, onion, and peppers together on a griddle.
Split, butter, and grill the roll. Spread the beef mixture evenly across it.
Mix cheese sauce, chili powder, and cayenne. Cover the beef mixture well with the cheese sauce. Serve very hot.
Yield: 1 Serving
Chef's Tip:
Philly steak beef is available commercially, pre-portioned, tenderized and ready to grill.
Nutrition
Per serving
716 calories
27 g protein
103 g carbohydrates
7 g fiber
23 g fat
9 g saturated fat
42 mg cholesterol
1676 mg sodium
For questions or to place an order, click here to contact your Bay Valley Foods representative.