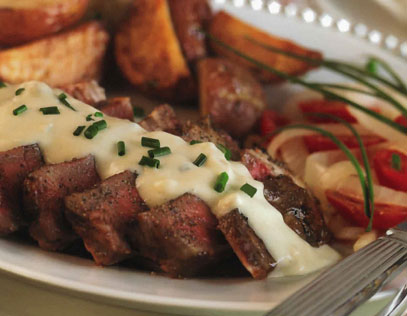 Nutrition
Per serving*
510 calories
30 g protein
5 g carbohydrate
0 g fiber
39 g fat
9 g saturated fat
130 mg cholesterol
740 mg sodium
*made with 6 oz boneless strip steak and 1 tbsp horseradish
Ingredients
| | |
| --- | --- |
| 2 oz (1/4 cup) | Rod's® Chunky Bleu Cheese Dressing |
| 1 tbsp (or to taste) | Horseradish |
| 1 (6-8 oz) | Boneless strip steak |
Procedure
Combine dressing and horseradish in small bowl.
Grill or broil steak to desired doneness.
Top steak with dressing mixture and serve immediately.
Yield: 1 Serving
Chef's Tip:
Serve additional dressing on the side.
Nutrition
Per serving*
510 calories
30 g protein
5 g carbohydrate
0 g fiber
39 g fat
9 g saturated fat
130 mg cholesterol
740 mg sodium
*made with 6 oz boneless strip steak and 1 tbsp horseradish
For questions or to place an order, click here to contact your Bay Valley Foods representative.