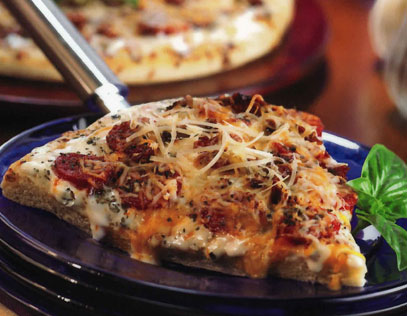 Nutrition
Per serving* (2 wedges)
670 calories
27 g protein
55 g carbohydrate
3 g fiber
38 g fat
15 g saturated fat
65 mg cholesterol
1410 mg sodium
*made without garnish
Ingredients
| | |
| --- | --- |
| 4 oz | Rod's® Buttermilk Ranch Dressing |
| 1 tsp | Garlic, minced |
| 1 (10-inch) | Boboli Cheese Crust |
| 3/4 cup (3 oz) | Pepperoni, thinly sliced |
| 1/2 cup (3 oz) | Sun-dried tomatoes packed in oil, drained, patted dry, sliced |
| 1/4 tsp | Oregano leaves, dried |
| 1/4 tsp | Basil leaves, dried |
| 6 oz | Mozzarella-Cheddar cheese blend, shredded |
| To garnish (optional) | Parmesan cheese, fresh, grated |
Procedure
Combine dressing and garlic in small bowl.
Spread dressing mixture evenly over top of crust to edges.
Arrange pepperoni and tomatoes over dressing; sprinkle with oregano and basil.
Sprinkle cheese evenly over pizza.
Bake in preheated 400°F oven for 10 to 12 minutes or until golden brown and bubbly.
Sprinkle with Parmesan cheese, if desired.
Cut into 8 wedges to serve, allowing 2 per serving.
Yield: 4 Servings (2 wedges per serving)
Chef's Tip:
If cheese blend is unavailable, substitute 3 oz each shredded Cheddar and Mozzarella cheeses. Cooked, drained, crumbled Italian sausage may be substituted for pepperoni. White Pizza Sauce may be substituted for Buttermilk Ranch Dressing. Creamy Garlic Dressing may be substituted for Buttermilk Ranch Dressing. Eliminate minced garlic.
Nutrition
Per serving* (2 wedges)
670 calories
27 g protein
55 g carbohydrate
3 g fiber
38 g fat
15 g saturated fat
65 mg cholesterol
1410 mg sodium
*made without garnish
For questions or to place an order, click here to contact your Bay Valley Foods representative.