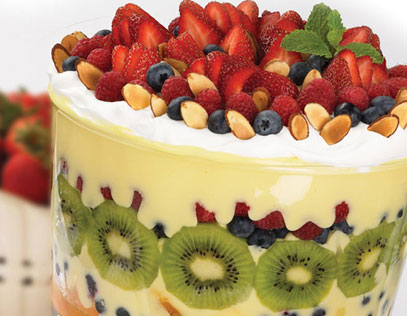 Nutrition
Per serving
290 calories
4 g protein
47 g carbohydrate
2 g fiber
11 g fat
4.5 g saturated fat
55 mg cholesterol
240 mg sodium
Ingredients
| | |
| --- | --- |
| 1/2 cup | Apricot preserves |
| 1/2 cup | Apricot nectar or orange juice, divided |
| 1 qt | Bay Valley® Brand or Thank You® Brand Vanilla Pudding |
| 6 cups | Pound cake, cut into 1-inch cubes |
| 2 cups | Blueberries, fresh or frozen (thawed) |
| 2 each | Kiwi, peeled, sliced |
| 1 to 2 cups | Strawberries, sliced |
| 1 cup | Prepared whipped topping |
| 1/4 cup | Almonds, sliced, toasted |
| To garnish (optional) | Mint sprigs |
| To garnish (optional) | Strawberries, whole |
Procedure
Combine apricot preserves and 2 Tbsp nectar in small bowl. Spoon about 1 cup pudding in bottom of 3-quart glass dish. Arrange half the cake over pudding; drizzle with about 3 Tbsp apricot nectar.
Spoon half the apricot preserves and half the fruit over cake; top with half the remaining pudding, spreading evenly. Repeat layers.
Spread whipped topping carefully over pudding. Cover and refrigerate several hours or overnight.
To serve, sprinkle with almonds. Garnish with mint and whole berries.
Yield: 12 Servings
Chef's Tip:
Banana pudding may be substituted for vanilla pudding. Raspberries may be substituted for strawberries. Peaches may be substituted for kiwi.
Nutrition
Per serving
290 calories
4 g protein
47 g carbohydrate
2 g fiber
11 g fat
4.5 g saturated fat
55 mg cholesterol
240 mg sodium
For questions or to place an order, click here to contact your Bay Valley Foods representative.