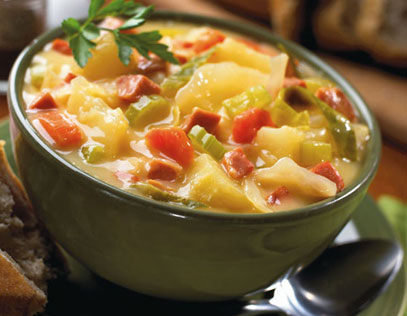 Nutrition
Per serving (8-oz)
185 calories
10 g protein
19 g carbohydrate
1 g fiber
7 g fat
2 g saturated fat
16 mg cholesterol
829 mg sodium
Ingredients
| | |
| --- | --- |
| 2 gal | Chicken stock |
| 3 qts | Potatoes, raw, diced |
| 2 qts | Cabbage, shredded |
| 2 qts | Lean ham, diced |
| 2 qts | Thank You® Brand Mild Cheddar Cheese Sauce |
| 1/2 cup | Cornstarch |
| 1/2 cup | Cold water |
| To taste | Salt and white pepper |
Procedure
Boil the potatoes, cabbage, and ham gently in the stock until potatoes are tender but not breaking apart.
Stir in the cheese sauce until well mixed.
Mix the cornstarch and water to a smooth paste, then add to the soup, stirring gently as it thickens.
Season to taste with salt and white pepper.
Yield: 48 Servings (each 8-oz)
Chef's Tip:
Taste before you season—if the stock was made from a base, it will already be salty. This dish is quite versatile. Chicken can replace (or complement) the ham; carrots, celery, and turnips all work well. To avoid damaging the potatoes, mix strained stock with the cheese sauce and then add it back.
Nutrition
Per serving (8-oz)
185 calories
10 g protein
19 g carbohydrate
1 g fiber
7 g fat
2 g saturated fat
16 mg cholesterol
829 mg sodium
For questions or to place an order, click here to contact your Bay Valley Foods representative.