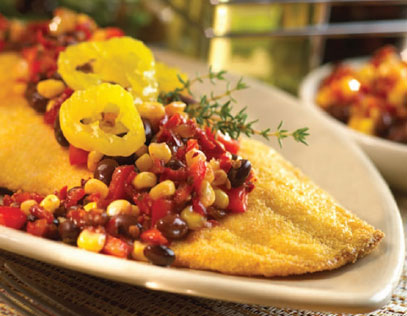 Nutrition
Per serving
525 calories
41 g protein
42 g carbohydrate
6 g fiber
20 g fat
3.5 g saturated fat
0 g trans fat
260 mg cholesterol
714 mg sodium
Ingredients
| | |
| --- | --- |
| 1 tbsp | Olive oil |
| 2 medium | Eggs, beaten |
| 1 (6-oz) | Flounder fillet (or other mild white fish) |
| 1/4 cup | Cornmeal, yellow or white |
| 1/2 cup | Corn relish (recipe follows) |
| 1 cup | Corn, frozen |
| 1 cup | Black beans, rinsed and drained |
| 1/4 cup | Bay Valley® Brand Hot Banana Pepper Rings, drained and chopped |
| 2 tbsp (1 oz) | Pimentos, drained |
| 1/2 cup (4 oz) | Bay Valley® Brand Pickled Sweet Red Pepper Relish, drained |
Procedure
Heat oil in a sauté pan over medium heat. Dip fillet into egg and then into cornmeal. Fry fillet 2 to 3 minutes on each side.
Heat Corn Relish

 

in small saucepan until warm.
Place fillet on plate and spoon relish mixture over the center.
Garnish with additional pepper rings.
Yield: 1 Serving/Entree
Relish Serves 4
Nutrition
Per serving
525 calories
41 g protein
42 g carbohydrate
6 g fiber
20 g fat
3.5 g saturated fat
0 g trans fat
260 mg cholesterol
714 mg sodium
For questions or to place an order, click here to contact your Bay Valley Foods representative.