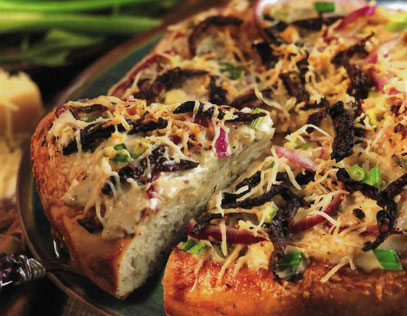 Nutrition
Per serving (2 wedges)
510 calories
18 g protein
55 g carbohydrate
4 g fiber
24 g fat
7 g saturated fat
35 mg cholesterol
910 mg sodium
Ingredients
| | |
| --- | --- |
| 1 lb (2 rounds) | Focaccia bread rounds |
| 1/2 cup (4 oz) | Rod's® Creamy Caesar Dressing |
| 2.5 oz | Vidalia onions, thinly sliced |
| 2.5 oz | Red onions, thinly sliced |
| 2 oz | Green onions, sliced |
| 3.5 oz | Gruyere cheese, shredded |
| 1.6 oz | Parmesan cheese, grated |
| 6 oz | Sun-dried tomatoes, packed in oil, drained, sliced |
Procedure
Heat focaccia rounds in oven until lightly crisp.
Spread about 1/4 cup dressing evenly over top of each focaccia round. Sprinkle with Vidalia, red and green onions, dividing evenly. Sprinkle cheeses over onions, dividing evenly. Top with sun-dried tomatoes, dividing evenly.
Broil or bake until cheese is melted and focaccia is heated through.
Cut each focaccia into 6 wedges to serve, allowing 2 per serving.
Yield: 6 Servings (2 wedges per serving)
Chef's Tip:
Bleu Cheese Dressing may be substituted for Creamy Caesar Dressing. Shredded Mozzarella or Fontina cheese may be substituted for Gruyere cheese.
Nutrition
Per serving (2 wedges)
510 calories
18 g protein
55 g carbohydrate
4 g fiber
24 g fat
7 g saturated fat
35 mg cholesterol
910 mg sodium
For questions or to place an order, click here to contact your Bay Valley Foods representative.