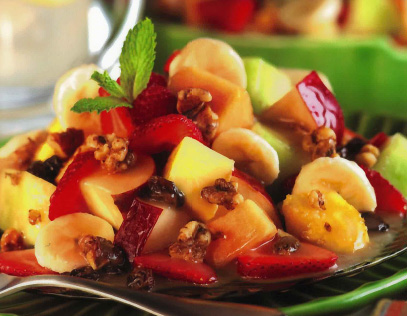 Nutrition
Per serving (4-oz)
180 calories
1 g protein
21 g carbohydrate
2 g fiber
12 g fat
2 g saturated fat
0 mg cholesterol
630 mg sodium
Ingredients
| | |
| --- | --- |
| 2 lbs | Pineapple, fresh, large dice |
| 2 lbs | Cantaloupe, fresh, large dice |
| 2 lbs | Honeydew melon, fresh, large dice |
| 2 lbs | Red Delicious apples, fresh, skin on, large dice |
| 1 cup | Raisins |
| 1/2 gal | Rod's® Raspberry Vinaigrette Dressing |
| 1 lb | Bananas, peeled, sliced |
| 1 lb | Strawberries, fresh, sliced |
| 1 cup | Walnuts, toasted, chopped |
Procedure
Combine pineapple, cantaloupe, honeydew melon, apples and raisins in large bowl.
Add dressing to fruit; mix gently.
Cover and refrigerate for 2 hours.
Just before serving, add bananas, strawberries and walnuts; mix gently.
Yield: 40 Servings (4 oz each)
Chef's Tip:
Coleslaw Dressing may be substituted for Raspberry Vinaigrette Dressing.
Nutrition
Per serving (4-oz)
180 calories
1 g protein
21 g carbohydrate
2 g fiber
12 g fat
2 g saturated fat
0 mg cholesterol
630 mg sodium
For questions or to place an order, click here to contact your Bay Valley Foods representative.