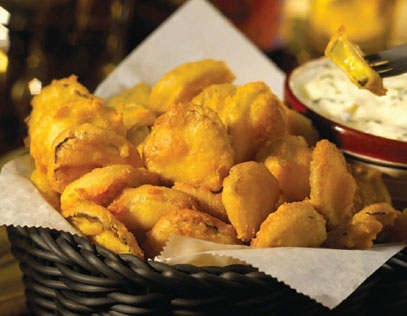 Nutrition
Per serving
396 calories
1.5 g protein
13 g carbohydrate
0 g fiber
40 g fat
4 g saturated fat
0 g trans fat
20 mg cholesterol
533 mg sodium
Ingredients
| | |
| --- | --- |
| 1 cup | All-purpose flour |
| 1/4 cup | Cornstarch |
| 1 tsp | Baking powder |
| 1/4 tsp | Salt |
| 1 cup | Ice water |
| 1 | Egg yolk |
| 1 lb (about 4 cups) | Bay Valley® Brand Kosher Dill Chips, drained |
Procedure
Stir flour, cornstarch, baking powder, and salt into large bowl.
Make a well in center; add water and egg yolk all at once.
Stir with wire whisk to make a smooth batter.
Cover bowl and refrigerate 30 minutes.
In batches, dip pickle slices in the batter to coat evenly and lightly.
Deep-fry in a single layer at 375°F until golden and crisp, 1 1/2 to 2 minutes.
Drain well and serve at once.
Yield: 8 Servings (as appetizer)
Nutrition
Per serving
396 calories
1.5 g protein
13 g carbohydrate
0 g fiber
40 g fat
4 g saturated fat
0 g trans fat
20 mg cholesterol
533 mg sodium
For questions or to place an order, click here to contact your Bay Valley Foods representative.