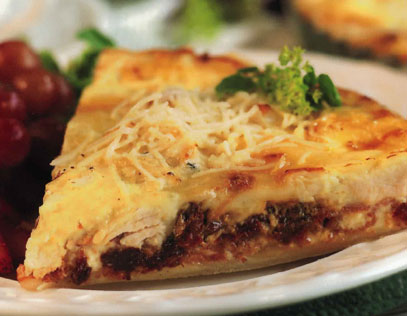 Nutrition
Per serving
620 calories
31 g protein
24 g carbohydrate
1 g fiber
45 g fat
18 g saturated fat
180 mg cholesterol
820 mg sodium
Ingredients
| | |
| --- | --- |
| 1 lb | Chicken breast fillets, boneless, skinless |
| 1/2 cup (4 oz) | Rod's® Caesar Dressing |
| 1 lb uncooked (5 oz cooked crisp) | Bacon, diced |
| 8 oz | Onions, diced |
| 8 oz | Rod's® Ranch Dressing |
| 2 cups (16 oz) | Half & half |
| 5 large | Eggs |
| 2 | Pie crusts, unbaked |
| 6 oz | Sun-dried tomatoes, packed in oil, drained, sliced |
| 1 lb | Swiss or Gruyere cheese, shredded |
| 1 oz | Parmesan cheese, grated |
Procedure
Marinate chicken in Caesar dressing covered, overnight in refrigerator.
Drain chicken. Broil or grill 4 to 5 minutes on each side, or until no longer pink. Cool slightly; slice thinly.
Saute bacon and onion until bacon is crisp and onion tender; drain well.
Combine Ranch dressing, half & half and eggs in large bowl; mix well.
Fit crusts into 2 fluted quiche pans. Layer ingredients as follows: bacon/onion mixture, sun-dried tomatoes, cooked chicken. Sprinkle with shredded cheese, dividing evenly.
Pour custard mixture into crusts, dividing evenly.
Bake in preheated 350°F oven for 40 to 50 minutes, until set. If tops brown too quickly, cover with foil.
Sprinkle with Parmesan cheese. Let stand 10 minutes.
Slice each quiche into 6 wedges to serve.
Yield: 12 Servings
Chef's Tip:
Garnish with small cluster of red grapes and watercress, parsley, or kale. If using precooked bacon, saute onion in small amount of oil.
Nutrition
Per serving
620 calories
31 g protein
24 g carbohydrate
1 g fiber
45 g fat
18 g saturated fat
180 mg cholesterol
820 mg sodium
For questions or to place an order, click here to contact your Bay Valley Foods representative.