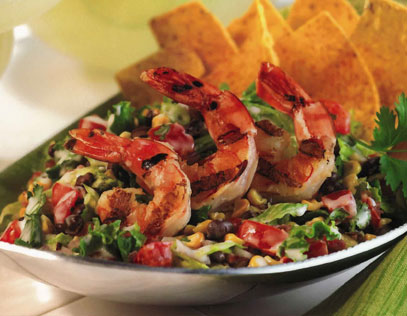 Nutrition
Per serving*
460 calories
21 g protein
45 g carbohydrate
12 g fiber
24 g fat
6 g saturated fat
85 g cholesterol
430 mg sodium
*without tortilla chips
Ingredients
| | |
| --- | --- |
| 1 cup (8 oz) | Rod's® Ranch Dressing, divided |
| 2 ears | Corn, fresh, husked, cleaned |
| 24 pieces | Large shrimp, peeled, deveined |
| 1 head | Iceberg lettuce, torn into bite-size pieces |
| 2 cups | Tomatoes, seeded, chopped |
| 2 cups | Canned black beans, drained, rinsed |
| 1 cup | Green onions, chopped |
| 1/2 cup | Red onion, chopped |
| 1/2 cup | Cilantro, fresh, chopped |
| As desired | Tortilla chips |
Procedure
Brush corn and shrimp with 1/4 cup dressing; grill on medium-high heat until corn begins to brown and shrimp turn opaque, about 5 minutes.
Keep shrimp warm. Cut corn from cob and place in large bowl.
Add lettuce, tomatoes, beans, green onion, red onion and cilantro to corn; toss well. Add remaining dressing and toss again to coat.
To serve, divide mixture evenly between 4 plates or bowls. Top with warm shrimp, dividing evenly. Accompany with tortilla chips.
Yield: 4 Servings
Chef's Tip:
Romaine lettuce may be substituted for iceberg lettuce.
Nutrition
Per serving*
460 calories
21 g protein
45 g carbohydrate
12 g fiber
24 g fat
6 g saturated fat
85 g cholesterol
430 mg sodium
*without tortilla chips
For questions or to place an order, click here to contact your Bay Valley Foods representative.