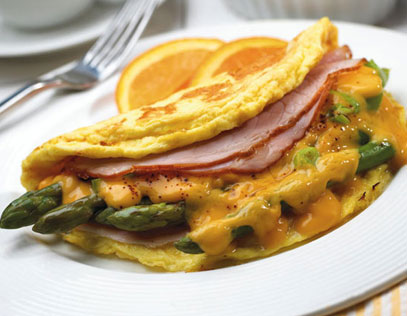 Nutrition
Per serving:
518 calories
36 g protein
12 g carbohydrate
2 g fiber
36 g fat
11 g saturated fat
706 mg cholesterol
1429 mg sodium
Ingredients
| | |
| --- | --- |
| 1-1/2 tsp | Olive oil or clarified butter |
| 6 oz | Egg batter (recipe follows) or liquid eggs |
| 2 oz | Lean ham, thinly sliced |
| 3 oz (4-8 whole spears, depending on thickness) | Asparagus, cooked and hot |
| 2 oz (1/4 cup) | Thank You® Brand Aged Cheddar Cheese Sauce, hot |
| 1 tbsp | Green onion tops, sliced |
| Sprinkle | Chipotle powder |
| | |
| Egg Batter: (11 servings) | |
| 2 qts | Beaten eggs (or liquid eggs) |
| 1/2 cup | Half & half |
| 1/2 tsp | Salt |
| 1/4 tsp | Ground pepper |
Procedure
Heat oil or clarified butter over a hot flame in a nonstick 8″ skillet.
Add egg batter and stir vigorously, scraping sides and bottom well, until omelette is almost completely set. Remove pan from heat.
Cover eggs in pan with ham, then lay hot asparagus spears across the center so they are directly in line with the pan's handle.
Cover asparagus and ham with 3 Tbsp of the cheese sauce. Sprinkle with half the green onions and set under a broiler or cheese melter to raise the eggs (about 1 minute). Roll the omelette out onto a plate, and garnish with the rest of the cheese sauce and green onion. Sprinkle with chipotle powder and serve.
Yield: 1 Serving
Chef's Tip:
Rolling the omelette out onto a plate will be difficult if the asparagus isn't pointing in the right direction.
Nutrition
Per serving:
518 calories
36 g protein
12 g carbohydrate
2 g fiber
36 g fat
11 g saturated fat
706 mg cholesterol
1429 mg sodium
For questions or to place an order, click here to contact your Bay Valley Foods representative.