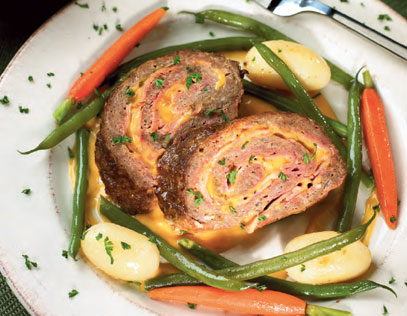 Nutrition
Per serving:
507 calories
31 g protein
13 g carbohydrate
0.5 g fiber
36 g fat
13 g saturated fat
168 mg cholesterol
1235 mg sodium
Ingredients
| | |
| --- | --- |
| 5 lbs | Ground beef |
| 1-1/2 cups | Onion, minced |
| 4 medium | Eggs, beaten |
| 1 tsp | Garlic, granulated |
| 2 tsp | Salt |
| 1/2 tsp | Black pepper, ground |
| 3/4 cup | Breadcrumbs |
| 1/2 cup | Ketchup |
| 12 oz | Ham, sliced |
| 3-1/3 cups | Thank You® Brand Mild Cheddar Cheese Sauce |
Procedure
Mix the first eight ingredients together. Divide into four batches of equal weight.
Put waxed paper onto a half sheetpan. Flatten each batch of the mixture into a rectangle about a foot wide by a foot and a half long. Lay 3 oz of the ham over each rectangle, leaving a border about 1-inch in width. Spread 1/3 cup of the cheese sauce over the ham on each rectangle.
Roll the rectangles up jellyroll-style, rolling up the short side so the "loaves" are long and relatively narrow. Pinch the ends shut and gently pinch the seam on the bottom.
Bake 40-50 minutes at 350°, until the internal temperature reaches 165°. Cut to order into half-inch thick slices, placing two per order on a spiral made from 1 oz of hot cheese sauce.
Yield: 16 Servings
Chef's Tip:
Be sure the ends and seams are well pinched, so the cheese sauce doesn't leak out.
Nutrition
Per serving:
507 calories
31 g protein
13 g carbohydrate
0.5 g fiber
36 g fat
13 g saturated fat
168 mg cholesterol
1235 mg sodium
For questions or to place an order, click here to contact your Bay Valley Foods representative.