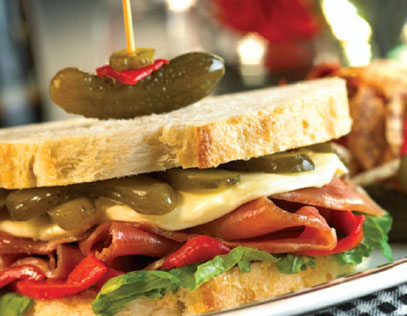 Nutrition
Per serving
395 calories
23 g protein
44 g carbohydrate
4 g fiber
14 g fat
6 g saturated fat
0 g trans fat
55 mg cholesterol
1589 mg sodium
Ingredients
| | |
| --- | --- |
| 2 slices | Sourdough bread |
| 1-1/2 tsp | Mayonnaise |
| 2 oz | Brie cheese, thinly sliced |
| 1/2 cup (0.4 oz) | Arugula leaves, fresh, washed |
| 2 oz | Bay Valley® Brand Roasted Red Pepper Strips |
| 1/4 lb | Westphalian ham, thinly sliced |
| 2 pieces (1 oz) | Bay Valley® Brand Sweet Gherkins, sliced thinly lengthwise |
Procedure
Spread 2 slices of bread with mayonnaise.
Put brie on bottom slice of bread. Arrange arugula pieces on brie.
Top with peppers, ham, and pickles. Top with remaining slice of bread and serve.
Yield: 1 Serving
Nutrition
Per serving
395 calories
23 g protein
44 g carbohydrate
4 g fiber
14 g fat
6 g saturated fat
0 g trans fat
55 mg cholesterol
1589 mg sodium
For questions or to place an order, click here to contact your Bay Valley Foods representative.