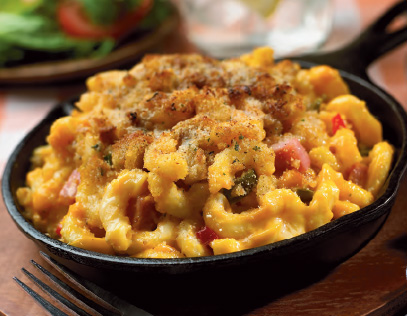 Nutrition
Per serving
403 calories
11 g protein
58 g carbohydrate
2 g fiber
15 g fat
5 g saturated fat
16 mg cholesterol
1211 mg sodium
Ingredients
| | |
| --- | --- |
| 2 lbs | Elbow macaroni (uncooked) |
| 8 cups | Thank You® Brand Jalapeño Cheddar Cheese Sauce |
| 2 cups | Milk |
| 3 tbsp | Jalapeño peppers, minced |
| 4 tbsp (1/4 cup) | Butter |
| 1/2-3/4 cup | Breadcrumbs, toasted |
Procedure
Cook macaroni and drain well.
Mix with cheese sauce, milk, and minced jalapeño peppers.
Butter a 2″ hotel pan well.
Pour in macaroni mixture, spreading evenly.
Melt remaining butter.
Sprinkle breadcrumbs evenly over the surface of the macaroni, and moisten with the melted butter.
Bake, covered, at 350° (300° convection) until hot.
Remove cover and brown breadcrumbs lightly under broiler.
Yield: 16 Servings
Chef's Tip:
Add diced ham, roasted red pepper, and green onions for a colorful variation. Careful with the amount of jalapeños—the cheese is already hot.
Nutrition
Per serving
403 calories
11 g protein
58 g carbohydrate
2 g fiber
15 g fat
5 g saturated fat
16 mg cholesterol
1211 mg sodium
For questions or to place an order, click here to contact your Bay Valley Foods representative.