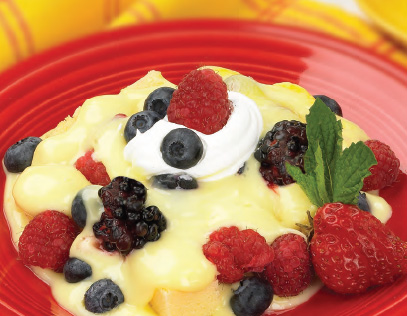 Nutrition
Per serving*
240 (170) calories
3 (3) g protein
41 (41) g carbohydrate
2 (2) g fiber
8 (0) g fat
3.5 (0) g saturated fat
50 (0) mg cholesterol
230 (160) mg sodium
* () = with fat free vanilla pudding, angel food cake and without garnishes
Ingredients
| | |
| --- | --- |
| 8 cups | Bay Valley® Brand or Thank You® Brand Vanilla Pudding |
| 1/4 cup | Orange juice concentrate, frozen, thawed |
| 12 cups | Pound cake, cut into 1/2" cubes |
| 12 cups | Mixed frozen berries, thawed, drained |
| To garnish | Whipped topping |
| To garnish | Strawberries, whole |
Procedure
Combine pudding and orange juice concentrate in large bowl.
Spread 2 cups in deep 12″ x 20″ pan.
Cover pudding layer evenly with cake cubes.
Spoon berries over cake cubes; top with remaining pudding, spreading evenly.
Cover and refrigerate 4 hours or overnight.
To serve, cut into 3″ squares.
Garnish with whipped topping and berries.
Yield: 24 Servings
Chef's Tip:
Lite fat free vanilla pudding may be substituted for vanilla pudding. Angel food cake cubes may be substituted for pound cake. Frozen peach slices (thawed and drained) may be substituted for mixed berries.
Nutrition
Per serving*
240 (170) calories
3 (3) g protein
41 (41) g carbohydrate
2 (2) g fiber
8 (0) g fat
3.5 (0) g saturated fat
50 (0) mg cholesterol
230 (160) mg sodium
* () = with fat free vanilla pudding, angel food cake and without garnishes
For questions or to place an order, click here to contact your Bay Valley Foods representative.