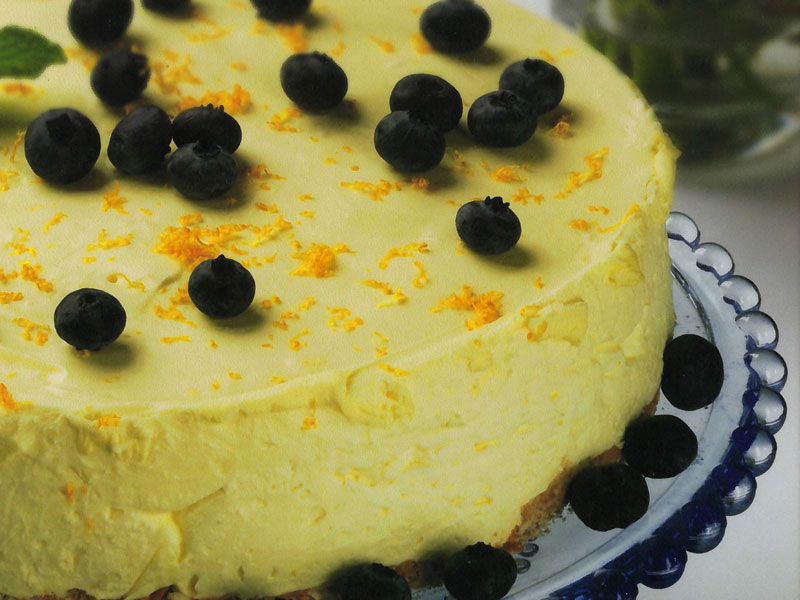 Nutrition
Per serving (4″ x 8″ piece)
320 calories
4 g protein
32 g carbohydrate
<1 g fiber
20 g fat
13 g saturated fat
55 mg cholesterol
280 mg sodium
Ingredients
| | |
| --- | --- |
| 3-1/2 tbsp | Unflavored gelatin |
| 1/3 cup | Cold water |
| 6 cups | Cream cheese, softened, warmed |
| 12 cups | Bay Valley® Brand or Thank You® Brand Lemon Pudding |
| 2 tbsp | Lemon zest |
| 7-1/2 cups | Prepared whipped topping |
| 1 cup | Cookie crumbs |
| To garnish | Whipped topping |
| To garnish | Berries |
Procedure
Sprinkle gelatin over cold water in small saucepan; let stand 3 to 4 minutes. Heat over low heat, stirring constantly, until gelatin is dissolved, 2 to 3 minutes.
Beat cream cheese in large bowl until fluffy. Beat gelatin mixture into cheese; mix well. Add pudding and zest; mix well.
Fold whipped topping into pudding mixture; mix well.
Sprinkle crumbs evenly over bottoms of two (10″) springform pans. Divide filling evenly between pans.
Cover and refrigerate cheesecakes until set and well chilled, 4 hours or overnight.
To serve, slice each cake into 16 wedges. Garnish with whipped topping and berries.
Yield: 32 Servings (2 cheesecakes)
Chef's Tip:
One 2" deep 12" x 20" steamtable pan may be substituted for 2 springform pans. Cut 4" x 8" for 32 servings.
Nutrition
Per serving (4″ x 8″ piece)
320 calories
4 g protein
32 g carbohydrate
<1 g fiber
20 g fat
13 g saturated fat
55 mg cholesterol
280 mg sodium
For questions or to place an order, click here to contact your Bay Valley Foods representative.