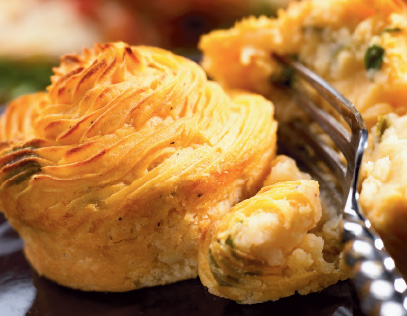 Nutrition
Per serving
96 calories
2.5 g protein
14 g carbohydrate
0 g fiber
3.5 g fat
1 g saturated fat
20 mg cholesterol
319 mg sodium
Ingredients
| | |
| --- | --- |
| 1 qt | Cooked mashed potatoes |
| 3/4 cup | Thank You® Brand Nacho Cheese Sauce |
| 2 tbsp | Green onion, minced |
| 1/2 tbsp | Jalapeño, minced |
| 1/8 tsp | Ground black pepper |
| 1 | Beaten egg |
Procedure
Mix all ingredients together.
Pipe into well-greased 12-hole muffin tin.
Bake at 400° (350° convection) for 30 minutes or until lightly browned on top.
Yield: 12 Servings
Chef's Tip:
To serve from steam table, make a 4x recipe and bake in a 2" hotel pan for the same length of time.
Nutrition
Per serving
96 calories
2.5 g protein
14 g carbohydrate
0 g fiber
3.5 g fat
1 g saturated fat
20 mg cholesterol
319 mg sodium
For questions or to place an order, click here to contact your Bay Valley Foods representative.