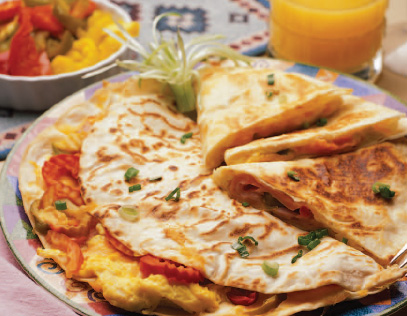 Nutrition
Per serving
593 calories
31 g protein
39 g carbohydrate
2 g fiber
34 g fat
12 g saturated fat
0 g trans fat
464 mg cholesterol
1515 mg sodium
Ingredients
| | |
| --- | --- |
| 2 large | Eggs |
| 1 oz | Cheddar cheese, grated |
| 2 tsp | Olive oil, divided |
| 1 tortilla (10-inch) | Flour tortilla |
| 1/2 oz | Bay Valley® Brand Sweet or Hot Cherry Peppers Sliced, drained |
| 1 oz | Ham, sliced |
Procedure
Beat eggs together; add grated cheese.
Heat 1 tsp of the oil on a griddle or in a large sauté pan and scramble the egg mixture. Remove and keep warm.
Paint one side of the tortilla with the remaining oil, and lay it oiled side down to brown. Add the scrambled eggs to one half of the tortilla. Arrange pepper rings evenly over eggs; cover with ham. When tortilla is lightly browned, fold over to make a halfmoon shape.
Cut into wedges and serve.
Yield: 1 Serving
Nutrition
Per serving
593 calories
31 g protein
39 g carbohydrate
2 g fiber
34 g fat
12 g saturated fat
0 g trans fat
464 mg cholesterol
1515 mg sodium
For questions or to place an order, click here to contact your Bay Valley Foods representative.