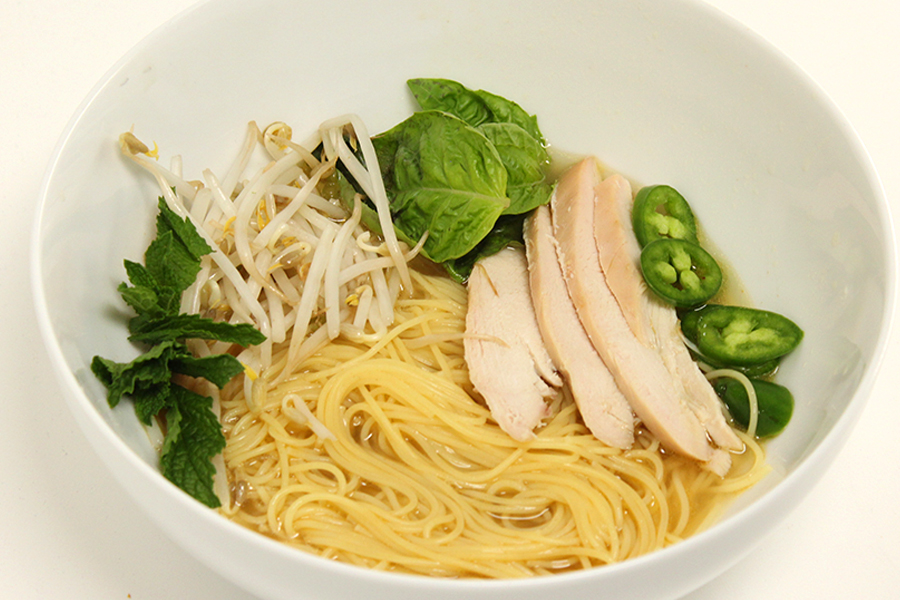 Nutrition
No nutrition information available.
Ingredients
| | |
| --- | --- |
| 1-1/2 Cups | La Bella Angel hair pasta |
| 10 fl. oz. | Prepared Pho broth |
| 3 slices | Rotisserie chicken breast - sliced against the grain |
| 1/2 Cup | Mung bean sprouts - fresh |
| 5 | Jalapeño peppers - sliced into coins |
| 5 | Basil leaves - fresh, picked |
| 5 | Mint leaves - fresh, picked |
Procedure
Cook angel hair pasta according to manufacturer specifications (3/4 cup dry = 1 1/2 cup cooked).
1. Place cooked angel hair pasta in the bottom of a large serving bowl.
2. Ladle boiling pho broth over top of the noodles.
3. Fan out the chicken between the bowl and pile of noodles.
4. Place the bean sprouts in a pile to the left of the chicken.
5. Place the jalapeño peppers in a pile to the right of the chicken.
6. Place the basil leaves between the bean sprouts and the chicken.
7. Place the mint to the left of the bean sprouts.
8. Serve.
Pho Broth
Yield: 8 servings
Ingredients
2 quarts chicken broth
4 quarts cups water
Carcass meat from 2 whole chickens, pulled
1 onion, halved, skin on
4 star anise seeds, whole
½ cup ginger fresh, skin on, cut in 1/2 -inch pieces
1 tablespoon garlic, fresh, minced
1 tablespoon kosher salt
Directions
1. In a large stock pot over low heat combine chicken broth, water, chicken meat, onion, star anise seeds, ginger and garlic. Bring to a simmer on low for five to eight hours.
2. Remove from heat and strain, reserving all liquid.
3. Throw away all solids.
4. Season with salt.
Chef's Tip:
A fusion of flavors, angel hair pasta topped with spiced slow-roasted bone broth, slices of roasted chicken, bean sprouts, jalapenos and fresh herbs.
Nutrition
No nutrition information available. For questions or to place an order, click here to contact your Bay Valley Foods representative.