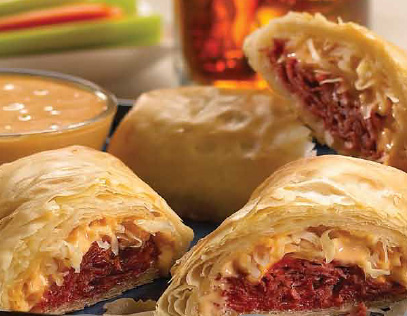 Nutrition
No nutrition information available.
Ingredients
| | |
| --- | --- |
| 2 lbs | Phyllo dough pastry sheets, 9 inches x 14 inches, frozen, thawed |
| 3 cups | Butter, melted, clarified |
| 12 slices | Swiss cheese, cut in half |
| 1-1/2 lbs | Corned beef, deli, sliced 1/8" thick |
| 1/2 cup | Rod's® Thousand Island Dressing |
| 1-1/2 cups | Schwartz's® Sauerkraut |
Procedure
Carefully unroll phyllo sheets onto a smooth, dry surface.
Cover completely with plastic wrap and a damp towel. To prevent dough from drying out, keep covered until needed.
Place 3 sheets of phyllo dough on parchment paper.
Lightly brush the top sheet of dough with melted butter, being careful not to tear it.
Place a half slice of Swiss cheese 1 inch from the center front edge of the short side of the phyllo dough.
Layer with a 1 ounce slice of corned beef, folded in half, 1 teaspoon Rod's

®

Thousand Island Dressing, and 1 tablespoon of Schwartz's®

 

Sauerkraut.
Fold the sides of the phyllo dough over the filling.
Roll the dough and filling; place seam side down on ungreased baking sheet.
Brush top with butter.
Repeat with remaining ingredients. Bake at 375°F for 25 minutes or until lightly browned.
Serve with additional Rod's

®

Thousand Island Dressing on the side.
Yield: 24 Servings
Nutrition
No nutrition information available. For questions or to place an order, click here to contact your Bay Valley Foods representative.