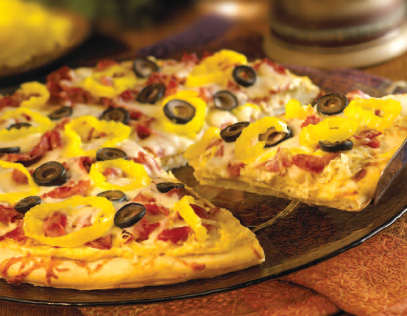 Nutrition
Per serving (1/8 of pizza)
167 calories
11 g protein
7 g carbohydrate
1 g fiber
11 g fat
6 g saturated fat
0 g trans fat
44 mg cholesterol
529 mg sodium
Ingredients
| | |
| --- | --- |
| 1/4 cup | Horseradish mustard |
| 1 pkg (8 oz) | Cream cheese |
| 1 crust (12") | Pre-made pizza crust |
| 1 cup | Sauerkraut, drained |
| 1/2 lb | Corned beef, thinly sliced, cut into strips |
| 1 cup | Swiss cheese, grated |
| 2 oz (about 12 rings) | Bay Valley® Mild Banana Pepper Rings, drained |
| 1/2 oz (2 tbsp) | Black olives, sliced |
Procedure
Preheat oven to 450°F.
Blend mustard and cream cheese; spread over pizza shell to within 1 inch of the edge.
Spread sauerkraut and corned beef evenly over pizza.
Sprinkle on cheese, and arrange pepper rings and olives over pizza.
Bake for 10 minutes or until cheese is melted.
Yield: 8 Servings (as appetizer)
Nutrition
Per serving (1/8 of pizza)
167 calories
11 g protein
7 g carbohydrate
1 g fiber
11 g fat
6 g saturated fat
0 g trans fat
44 mg cholesterol
529 mg sodium
For questions or to place an order, click here to contact your Bay Valley Foods representative.