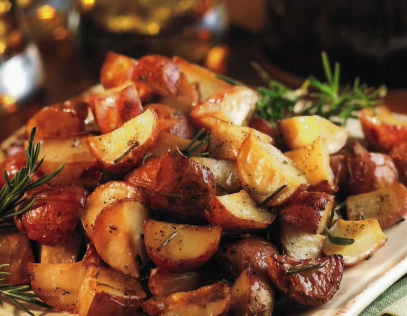 Nutrition
Per Serving*
270 calories
3 g protein
30 g carbohydrate
3 g fiber
17 g fat
2.5 g saturated fat
0 mg cholesterol
820 mg sodium
*made with dash salt and dash pepper
Ingredients
| | |
| --- | --- |
| 6 large (1-1/2 lb) | Red potatoes |
| 1 tbsp | Fresh rosemary, finely shopped |
| To taste | Salt |
| To taste | Black pepper, ground |
| 3/4 cup (6 oz) | Rod's® Olde World Italian Dressing |
Procedure
Cut potatoes into bite-size pieces and place in medium bowl.
Season potatoes with rosemary, salt, and pepper; mix well.
Add dressing; mix well.
Transfer potatoes to baking sheet.
Bake in preheated 350°F oven until potatoes are tender and well browned, about 1 hour.
Yield: 4 Servings
Chef's Tip:
Other fresh herbs may be substituted for rosemary.
Nutrition
Per Serving*
270 calories
3 g protein
30 g carbohydrate
3 g fiber
17 g fat
2.5 g saturated fat
0 mg cholesterol
820 mg sodium
*made with dash salt and dash pepper
For questions or to place an order, click here to contact your Bay Valley Foods representative.