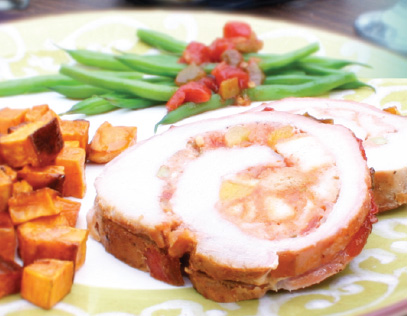 Nutrition
No nutrition information available.
Ingredients
| | |
| --- | --- |
| 12 cups | Dried bread cubes |
| 4-1/2 cups | San Antonio Farms® Chunky Salsa |
| 2 cups | Celery, diced |
| 2 cups | Dried apricots, chopped |
| 10 lbs | Center cut boneless pork loin roast |
| To taste | Salt & pepper |
| 1-1/2 cups | Apricot preserves, warmed |
Procedure
Preheat oven to 375ºF.
In a large bowl, combine the bread cubes, 4 cups salsa, celery and dried apricots. Sprinkle both sides of pork with salt and pepper; spread stuffing evenly over the pork.
Roll the pork starting with the long side, jelly roll style. Tie crosswise at 2 inch intervals with kitchen twine; place on a greased roasting pan.
In a small bowl, combine apricot preserves and 1/2 cup salsa; brush over pork. Bake for 1 hour and 30 minutes or until internal temperature of pork and stuffing reaches 165ºF.
Let stand for 10 minutes.
Cut into 1/2 inch thick slices. Remove twine before serving.
Yield: 24 Servings
Chef's Tip:
Substitute our Thick & Chunky Salsa or Picante Sauce in this recipe. For a sweet and smoky stuffing, use our Roasted Chipotle Salsa.
Nutrition
No nutrition information available. For questions or to place an order, click here to contact your Bay Valley Foods representative.