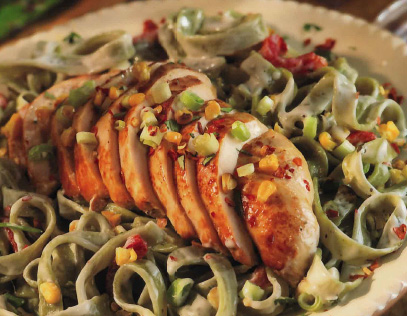 Nutrition
Per serving
1070 calories
44 g protein
93 g carbohydrate
3 g fiber
60 g fat
12 g saturated fat
90 mg cholesterol
1580 mg sodium
Ingredients
| | |
| --- | --- |
| 1/2 tsp | Salt |
| 1/2 tsp | Cumin, ground |
| 1/2 tsp | Oregano leaves, dried |
| 1/4 tsp | Cayenne pepper |
| 1/4 tsp | Coriander, ground |
| 1/4 cup (2 oz) | Rod's® Buttermilk Ranch Dressing |
| 4 (4 oz each) | Chicken breast fillets, boneless, skinless |
| 1 lb | Fettuccine, uncooked |
| 2 cups (16 oz) | Rod's® Buttermilk Ranch Dressing |
| 6 oz (approx 3/4 cup) | Roasted red peppers, drained, cut into strips |
| 3 tbsp | Green onions, thinly sliced |
| 1/2 tsp | Dried crushed red pepper |
Procedure
Blend seasonings into 1/4 cup dressing; mix well.
Marinate chicken in seasoned dressing mixture covered, 2 hours or overnight, in refrigerator.
Broil chicken 4 to 5 minutes per side, or until no longer pink. Cool slightly; slice thinly.
Cook fettuccine according to package directions; drain well.
Meanwhile, warm 2 cups dressing in large saucepan over low heat, just until heated through.
Add cooked fettuccine and peppers to hot dressing; toss gently.
To serve, divide pasta evenly between 4 plates. Top each portion with 1 sliced broiled chicken breast fillet; sprinkle with green onions and crushed red pepper, dividing evenly.
Yield: 4 Servings
Chef's Tip:
Spinach fettuccine may be substituted for regular fettuccini. Heat fettuccine before adding to hot dressing. If desired, add small amount of white wine. Sprinkle each plated portion with chopped cilantro and grilled corn kernels (grill corn; cut kernels from cob).
Nutrition
Per serving
1070 calories
44 g protein
93 g carbohydrate
3 g fiber
60 g fat
12 g saturated fat
90 mg cholesterol
1580 mg sodium
For questions or to place an order, click here to contact your Bay Valley Foods representative.