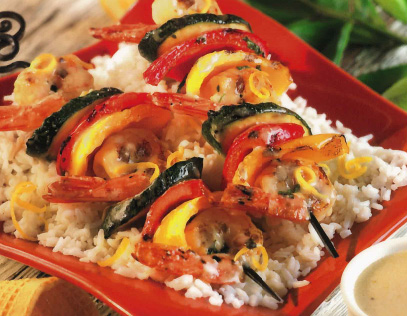 Nutrition
Per serving*
500 calories
30 g protein
41 g carbohydrate
2 g fiber
23 g fat
4.5 g saturated fat
220 mg cholesterol
760 mg sodium
*without garnishes
Ingredients
| | |
| --- | --- |
| 1 cup (8 oz) | Rod's® Caesar Dressing, divided |
| 2 tbsp | Parsley, chopped |
| 1 lb | Large shrimp, 16/20 size, peeled, deveined |
| 1 medium (16 pieces/6 oz) | Red bell pepper, seeded, cut into 1-inch pieces, 16 pieces |
| 1 medium (16 pieces/6 oz) | Yellow bell pepper, seeded, cut into 1-inch pieces, 16 pieces |
| 1 medium, 6" (12 slices/8 oz) | Zucchini, thickly sliced, 12 slices |
| 3 cups | Rice, cooked, hot |
| To garnish | Lemon zest |
| To garnish | Parmesan cheese, freshly grated |
Procedure
Combine dressing and parsley in small bowl; mix well. Reserve 1/2 cup; cover and refrigerate.
Combine remaining dressing mixture and shrimp in shallow glass dish. Cover and refrigerate 1 hour.
Remove shrimp from marinade. Thread on 8 skewers alternately with bell pepper pieces and zucchini slices. Brush with reserved dressing mixture.
Grill or broil on medium-high until vegetables are tender and shrimp is opaque.
To serve, divide rice evenly between 4 plates. Top each with 2 skewers. Garnish with lemon zest and cheese.
Yield: 4 Servings
Chef's Tip:
Serve wtih additional Caesar Dressing on the side. Garnish plate with parsley sprig and broiled tomato half or cherry tomatoes.
Nutrition
Per serving*
500 calories
30 g protein
41 g carbohydrate
2 g fiber
23 g fat
4.5 g saturated fat
220 mg cholesterol
760 mg sodium
*without garnishes
For questions or to place an order, click here to contact your Bay Valley Foods representative.