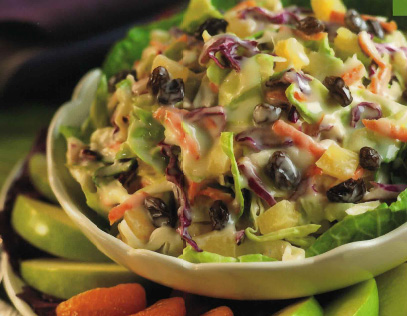 Nutrition
Per serving (4 oz)
260 calories
2 g protein
22 g carbohydrate
3 g fiber
18 g fat
2.5 g saturated fat
15 mg cholesterol
510 mg sodium
Ingredients
| | |
| --- | --- |
| 10 lbs | Green cabbage, shredded |
| 8 oz | Carrots, shredded |
| 8 oz | Red cabbage, shredded |
| 1/2 gal | Rod's® Coleslaw Dressing |
Procedure
Combine cabbage, carrots, red cabbage and dressing in large bowl; mix well.
Cover and refrigerate until well chilled.
Yield: 40 Servings (4 oz each)
Chef's Tip:
Add pineapple tidbits, chopped apples, Mandarin oranges, raisins or nuts to create signature slaws.
Nutrition
Per serving (4 oz)
260 calories
2 g protein
22 g carbohydrate
3 g fiber
18 g fat
2.5 g saturated fat
15 mg cholesterol
510 mg sodium
For questions or to place an order, click here to contact your Bay Valley Foods representative.