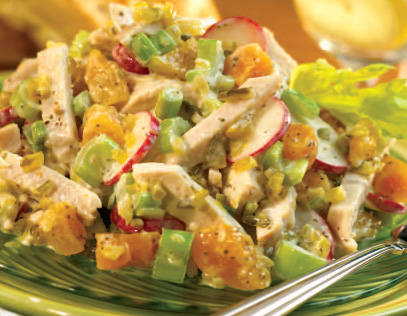 Nutrition
Per serving (1/2 cup)
131 calories
13 g protein
10 g carbohydrate
1 g fiber
4.5 g fat
1 g saturated fat
0 g trans fat
32 mg cholesterol
610 mg sodium
Ingredients
| | |
| --- | --- |
| 3/4 lb (2 cups) | Turkey, smoked, cooked, julienned |
| 1 cup (4.5 oz) | Celery, chopped |
| 1/2 cup (3.5 oz) | Dried apricots, chopped |
| 1/4 cup | Bay Valley® Brand Sweet Pickle Relish |
| 1/2 cup (2 oz) | Radishes, thinly sliced |
| 1 tbsp (1/4 oz) | Scallions, chopped |
| 1/2 cup | Mayonnaise |
| 1 tsp | Celery seed |
| 1/8 tsp | Black pepper, ground |
Procedure
In large bowl, combine turkey, celery, apricots, relish, radishes, and scallions.
In small bowl, whisk together mayonnaise, celery seed, and pepper.
Fold the dressing into the turkey mixture and toss gently to coat.
Cover & refrigerate.
Serve chilled.
Yield: 8 Servings (1/2 cup = 1 serving)
Nutrition
Per serving (1/2 cup)
131 calories
13 g protein
10 g carbohydrate
1 g fiber
4.5 g fat
1 g saturated fat
0 g trans fat
32 mg cholesterol
610 mg sodium
For questions or to place an order, click here to contact your Bay Valley Foods representative.