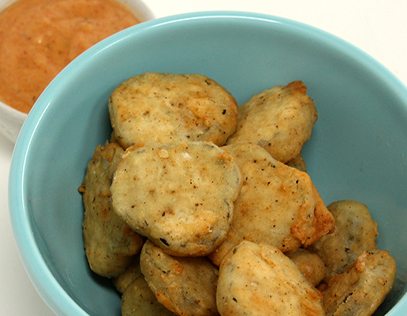 Nutrition
No nutrition information available.
Ingredients
| | |
| --- | --- |
| 1 cup | Bay Valley Ranch Pickle Chips, drained |
| 1 cup | breading mixture |
| 1 cup | reserved ranch pickle brine |
| ¼ cup | BBQ ranch |
Procedure
Yield: 1 serving
1. In a large bowl, place the drained pickles.
2. Sprinkle the breading mixture over the pickles and toss to coat.
3. In another medium bowl, place the pickle brine.
4. Shake the pickles in the breading mixture of excess mix and place into the bowl with the brine. Toss to wet all the pickles.
5. Strain the pickles out of the brine and return to the large bowl with the breading mixture.
6.Repeat steps 4, 5 and 6.
7. Shake off all excess breading mixture and discard unused mixture.
8. Fry the coated pickles at 350 degrees for 6 minutes, or until they are golden brown. Drain, cool and serve in a serving dish along with the BBQ Ranch
Smoky BBQ Ranch
Yield: 6 servings
Ingredients
2 slices thick cut bacon
3 teaspoons bacon fat, warm
¼ cup BBQ sauce
1 cup ranch dressing
¼ teaspoon salt
¼ teaspoon Annatto powder
½ teaspoon paprika
Directions
1. Place bacon on a lined sheet tray. Bake at 350 degrees for 10 minutes, or until bacon is browned and crispy. Remove from oven, pour off fat into a small bowl and reserve for later use. Allow bacon to cool, then crumble into pieces the size of coarse salt.
2. Add all ingredients to a medium sized bowl and whisk together until fully combined.
3. Transfer to a lidded container and store refrigerated until ready to use.
Pickle Breading Mixture
Yield: 3 servings
Ingredients
3 cups all-purpose flour
2 tablespoons salt
3 tablespoons onion powder
1 tablespoon garlic powder
1 tablespoon black pepper
Directions
1. In a large bowl, combine all ingredients and stir until combined.
2. Transfer to a lidded quart container and store until needed.  
Chef's Tip:
Tangy ranch infused pickle chips, hand-battered and fried. Served with a smoky bacon BBQ ranch dipping sauce.
Nutrition
No nutrition information available. For questions or to place an order, click here to contact your Bay Valley Foods representative.