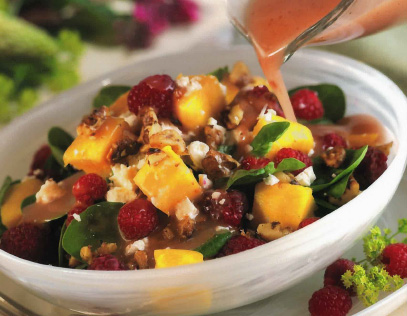 Nutrition
Per serving
330 calories
8 g protein
36 g carbohydrate
14 g fiber
20 g fat
4 g saturated fat
10 mg cholesterol
610 mg sodium
Ingredients
| | |
| --- | --- |
| 1 bag (10 to 12 oz) | Spinach leaves, washed, dried |
| 2 pts | Raspberries, rinsed, drained |
| 1 medium (12 oz) | Mango, peeled, pitted, cut into bite-size pieces (7 oz edible portion) |
| 1/2 cup | Walnuts, toasted, chopped |
| 1/2 cup (2 oz) | Feta cheese, crumbled |
| 1/2 cup (4 oz) | Rod's® Raspberry Vinaigrette Dressing |
Procedure
Tear spinach leaves into bite-sized pieces and place in large bowl.
Sprinkle raspberries, mango, walnuts and cheese over spinach.
Drizzle dressing over salad; toss gently.
Serve immediately.
Yield: 4 Servings
Chef's Tip:
Sliced strawberries may be substituted for raspberries.
Nutrition
Per serving
330 calories
8 g protein
36 g carbohydrate
14 g fiber
20 g fat
4 g saturated fat
10 mg cholesterol
610 mg sodium
For questions or to place an order, click here to contact your Bay Valley Foods representative.