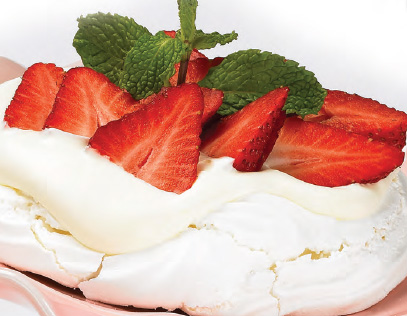 Nutrition
Per serving*
190 (150) calories
2 (2) g protein
34 (35) g carbohydrate
< 1 (< 1) g fiber
6 (1.5) g fat
2 (1) g saturated fat
0 (0) mg cholesterol
180 (160) mg sodium
*() indicates fat free vanilla pudding
Ingredients
| | |
| --- | --- |
| 1 tbsp | Meringue powder |
| 1/4 cup | Cold water |
| 7 tbsp, divided | Sugar, granulated |
| 1-1/4 qts | Bay Valley® Brand or Thank You® Brand Vanilla Pudding, (regular or fat free) |
| 1-1/4 cups | Prepared whipped topping |
| 3 cups | Strawberries, sliced |
Procedure
Combine meringue powder, water, and half the sugar in large mixing bowl.
Beat at high speed 5 minutes.
Gradually add remaining sugar, beating until meringue is stiff and glossy.
Grease and flour baking sheets or line with parchment paper.
Fit pastry bag with large star tip; fill bag with meringue.
Pipe meringue into 12 round or heartshaped shells on baking sheet.
Bake meringue shells at 250°F until dry and firm to the touch, 30 to 35 minutes.
Cool completely; remove from baking sheet.
To serve, combine pudding and whipped topping in large bowl; mix well.
Spoon generous 1/2 cup pudding mixture into meringue shell; top each with 1/4 cup strawberries.
Repeat with remaining meringue shells, filling, and fruit.
Yield: 12 Servings
Chef's Tip:
Meringue mixture may be dropped from spoon into mounds on baking sheet; form into bowl shapes using large spoon dipped into cold water. Egg whites may be substituted for meringue powder. Beat 4 large egg whites and 1/4 tsp. cream of tartar to soft peaks in large bowl. Gradually beat in 1 1/4 cups sugar, beating until stiff and glossy. Other fresh, frozen (thawed), or canned (drained) fruit may be substituted for strawberries. Chocolate or chocolate fudge pudding may be substituted for vanilla pudding.
Nutrition
Per serving*
190 (150) calories
2 (2) g protein
34 (35) g carbohydrate
< 1 (< 1) g fiber
6 (1.5) g fat
2 (1) g saturated fat
0 (0) mg cholesterol
180 (160) mg sodium
*() indicates fat free vanilla pudding
For questions or to place an order, click here to contact your Bay Valley Foods representative.