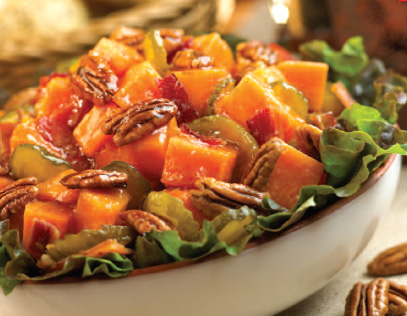 Nutrition
Per serving
451 calories
7 g protein
47 g carbohydrate
5 g fiber
27 g fat
3 g saturated fat
0 g trans fat
10 mg cholesterol
386 mg sodium
Ingredients
| | |
| --- | --- |
| 40 oz | Sweet potatoes, peeled and quartered |
| 1/2 lb | Bacon, cut into 1-inch pieces |
| 1 cup | Bay Valley® Brand Sweet Cucumber Chips, drained |
| 1 cup | Pecan halves |
| 8 each | Red lettuce leaves |
| | |
| Lemon Ginger Dressing: | |
| 1 tbsp | Lemon juice, fresh |
| 1/2 cup | Brown sugar |
| 1 tsp | Gingerroot, fresh, ground (or 1/4 tsp dried ground ginger) |
| 1/2 cup | Canola oil |
| 3 tbsp | Cider vinegar |
Procedure
Steam or boil potatoes until tender.  Cool and cut into bite-size pieces.
Cook bacon until crisp.
Combine potatoes, bacon, cucumber chips, and pecan halves with dressing in large bowl.
Line serving dish with lettuce leaves. Spoon salad on top.
Garnish with additional cucumber chips if desired.
Yield: 10 Servings
Nutrition
Per serving
451 calories
7 g protein
47 g carbohydrate
5 g fiber
27 g fat
3 g saturated fat
0 g trans fat
10 mg cholesterol
386 mg sodium
For questions or to place an order, click here to contact your Bay Valley Foods representative.