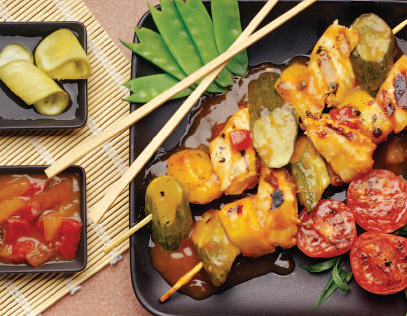 Nutrition
Per serving
221 calories
24 g protein
30 g carbohydrate
2.5 g fiber
3 g fat
1 g saturated fat
0 g trans fat
63 mg cholesterol
1504 mg sodium
Ingredients
| | |
| --- | --- |
| 1 each (4 oz) | Chicken breast, boneless, skinless |
| 1/2 cup | Dill pickle juice |
| 1/2 cup | Pineapple juice |
| 2 oz | Canned pineapple chunks |
| 2 each | Bay Valley® Brand Mini Kosher Dills, cut into 1/2 inch pieces |
| 4 each | Cherry tomatoes |
Procedure
Cut chicken into 3/4″ cubes.
Mix pickle juice and pineapple juice; marinate chicken in this for 30 to 60 minutes.
Drain.
On a large skewer, alternate chicken chunks, pineapple chunks, and dill pickle pieces, and insert the occasional tomato.
Broil or grill until internal temperature of the chicken reaches 165°F.
Yield: 1 Serving
Nutrition
Per serving
221 calories
24 g protein
30 g carbohydrate
2.5 g fiber
3 g fat
1 g saturated fat
0 g trans fat
63 mg cholesterol
1504 mg sodium
For questions or to place an order, click here to contact your Bay Valley Foods representative.