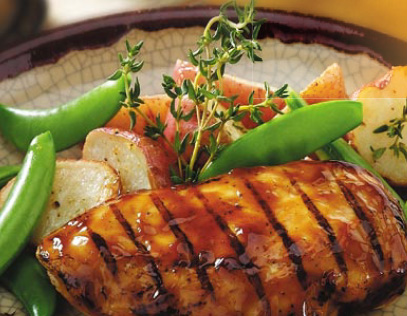 Nutrition
No nutrition information available.
Ingredients
| | |
| --- | --- |
| 24 each | Chicken breasts (6-8 oz each), boneless, skinless |
| 9 cups, divided | Saucemaker® Teriyaki Sauce |
Procedure
Place chicken breasts in a hotel pan; cover with 6 cups Saucemaker® Teriyaki Sauce. Refrigerate, covered, for 1-2 hours. Remove from marinade; discard marinade.
Preheat oven to 350°F. Place chicken breasts on oiled baking sheets. Bake for 35 to 40 minutes or until internal temperature reaches 165°F. Glaze with additional teriyaki sauce.
Serve with roasted potatoes and pea pods.
Yield: 24 Servings
Chef's Tip:
For Honey Ginger Chicken combine Saucemaker® Honey Garlic Sauce and Saucemaker® Zesty Orange Ginger Sauce and use as a marinade and glaze. Mix Saucemaker® Teriyaki Sauce with ground beef, breadcrumbs and diced water chestnuts to create an Oriental Meatloaf.
Nutrition
No nutrition information available. For questions or to place an order, click here to contact your Bay Valley Foods representative.