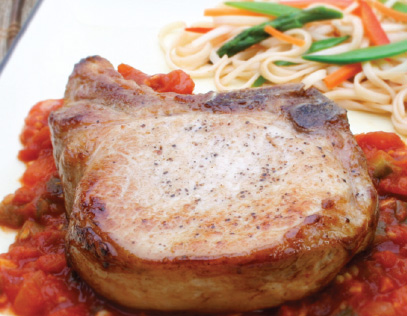 Nutrition
No nutrition information available.
Ingredients
| | |
| --- | --- |
| 12 cups | San Antonio Farms® Picante Sauce |
| 1/4 cup | Garlic, fresh, minced |
| 1-1/2 cups | Ginger root, fresh, minced |
| 1 tbsp | Hot Madras Curry Powder |
| 24 each | Pork Loin Chops, bone-in (1" thick) |
| To taste | Salt & pepper |
Procedure
Preheat oven to 375ºF.
Combine the picante sauce, garlic, ginger root and curry powder; pour half into the bottom of a hotel pan.
Season pork chops with salt and pepper; sear both sides of the chops in an oiled sauté pan or an oiled flat grill.
Place into hotel pan; top with remaining sauce mixture.
Bake for 30-35 minutes or until internal temperature reaches 140ºF.
Serve pork drizzled with sauce.
Yield: 24 Servings
Chef's Tip:
Use any brand of hot curry powder or even Thai chili sauce to add heat and flavor to this sauce. You can also use our Chunky or Thick & Chunky Salsas in place of Picante Sauce.
Nutrition
No nutrition information available. For questions or to place an order, click here to contact your Bay Valley Foods representative.