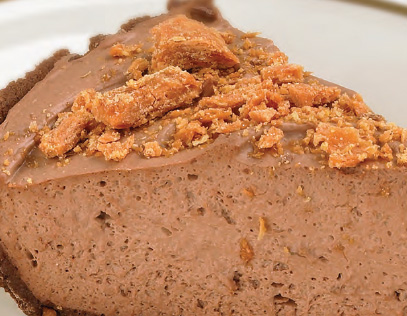 Nutrition
Per serving:
330 calories
5 g protein
35 g carbohydrate
0 g fiber
19 g fat
10 g saturated fat
35 mg cholesterol
270 mg sodium
Ingredients
| | |
| --- | --- |
| 1 packet (1/4 oz) | Unflavored gelatin |
| 1/4 cup | Cold water |
| 1 qt | Thank You® Brand Chocolate Fudge Pudding |
| 1 lb | Cream cheese, softened |
| 2 (each 9" size) | Chocolate crumb crusts |
| 2/3 cup | Toffee bits |
Procedure
Sprinkle gelatin over cold water in small saucepan; let stand 3 to 4 minutes.
Heat over low heat, stirring constantly, until gelatin is dissolved, 2 to 3 minutes.
Stir gelatin mixture into pudding; mix well.
Beat cream cheese in large bowl until fluffy.
Add pudding mixture, beating until smooth.
Divide evenly between crusts, smoothing tops.
Cover and refrigerate pies until set and well chilled, 4 to 6 hours.
To serve, sprinkle with toffee bits, dividing evenly.
Cut each pie into 8 wedges.
Yield: 16 Servings (2 Pies)
Chef's Tip:
Chocolate, vanilla, or butterscotch pudding may be substituted for chocolate fudge pudding. Garnish with whipped cream or whipped topping.
Nutrition
Per serving:
330 calories
5 g protein
35 g carbohydrate
0 g fiber
19 g fat
10 g saturated fat
35 mg cholesterol
270 mg sodium
For questions or to place an order, click here to contact your Bay Valley Foods representative.