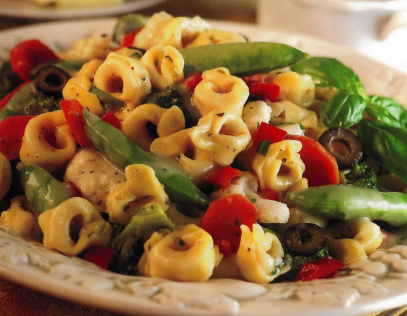 Nutrition
Per serving
530 calories
12 g protein
43 g carbohydrate
3 g fiber
35 g fat
7 g saturated fat
30 mg cholesterol
1040 mg sodium
Ingredients
| | |
| --- | --- |
| 1/2 cup (1 oz) | Broccoli florets |
| 1/2 cup (2 oz) | Cauliflower florets |
| 1/2 cup (2 oz) | Carrots, sliced into coins |
| 6 oz | Sugar snap peas |
| 1/2 cup (1 oz) | Red bell pepper, 1/2-inch dice |
| 1 lb | Cheese tortellini |
| 2 cups (16 oz) | Rod's® Deluxe Italian Dressing |
| 1/3 cup (1 oz) | Black olives, sliced |
| 1/3 cup (1/2 oz) | Basil, fresh, chopped |
Procedure
Blanch broccoli, cauliflower, carrots, sugar snap peas and red bell pepper; drain well. Cover and refrigerate until ready to use.
Cook tortellini according to package directions; drain well.
Place tortellini in large bowl. Add vegetables, dressing and olives; toss gently.
Cover and refrigerate until well chilled.
Sprinkle with basil to serve.
Yield: 6 Servings
Chef's Tip:
Serve with freshly grated Parmesan cheese.
Nutrition
Per serving
530 calories
12 g protein
43 g carbohydrate
3 g fiber
35 g fat
7 g saturated fat
30 mg cholesterol
1040 mg sodium
For questions or to place an order, click here to contact your Bay Valley Foods representative.