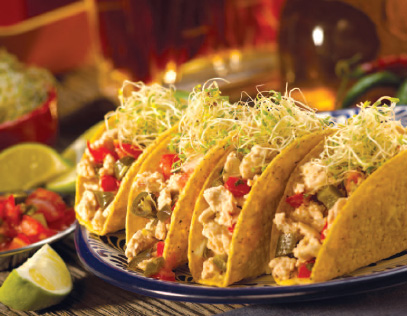 Nutrition
Per serving (2 tacos)
295 calories
21 g protein
23 g carbohydrate
3.5 g fiber
14 g fat
4.5 g saturated fat
0 g trans fat
41 mg cholesterol
566 mg sodium
Ingredients
| | |
| --- | --- |
| 1 cup (6 oz) | Yellow onion, cut in small dice |
| 1 tbsp | Olive oil |
| 1 lb | Ground turkey breast |
| 1/8 tsp | Salt |
| 1/16 tsp | Black pepper, ground |
| 1/2 cup (3 oz) (8 peppers) | Bay Valley® Brand Jalapeños, finely chopped |
| 2 cups | Fresh tomatoes, finely diced |
| 1/4 cup (1 oz) | Scallions, finely chopped |
| 1 tbsp | Fresh cilantro, finely chopped |
| 2 tbsp | Lime juice |
| 16 each | Taco shells, warmed |
| 1 cup (5 oz) | Shredded Monterey Jack cheese |
| 4 cups (*very loosely packed; about 1 4-oz container) | Alfalfa sprouts* or shredded lettuce |
Procedure
Over medium heat, cook the diced onion in oil until transparent but not brown.
Add ground turkey; stir and season with salt and pepper as it cooks.
When turkey has just a bit of pink color left, add diced tomatoes,  chopped peppers, and scallions, and heat through. Simmer until almost all moisture is evaporated (10-15 minutes) and add cilantro and lime juice.
 Spoon scant 1/4 cup of the mixture (1.5 oz) into each of 16 taco shells. Top each with 1 Tbsp. cheese and 1/4 cup (.3 oz) loosely packed sprouts or lettuce.
Yield: 16 Tacos; (8 Servings of 2 Tacos Each)
Nutrition
Per serving (2 tacos)
295 calories
21 g protein
23 g carbohydrate
3.5 g fiber
14 g fat
4.5 g saturated fat
0 g trans fat
41 mg cholesterol
566 mg sodium
For questions or to place an order, click here to contact your Bay Valley Foods representative.